Originally posted at http://torillb.blogspot.com
Hi Friends!
It's so exciting to be moved and settling in to our new home! We had quite the team help us get everything over here. The move was only about 7 miles from Josh's old house, but I am in a whole new neighborhood! So far, I LOVE IT! We are close to Josh's parents, my parents and a handful of Josh's great friends. I'm further from work and my friends, but (and, remind me that I said this when I'm complaining in few months) so far, the commute is not so bad and it's really not that far from my friends. We're a hop away from the 101, so it's easy to jump right on and zip wherever I need to go.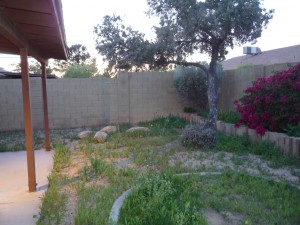 I am really looking forward to finding new places to eat and shop. We are really close to a Super Target, so I should be set! What I am most looking forward to trying, though, is Roberto's, a Mexican food joint connected to a Shell Station. Their best feature, aside from the fact that Guy Fieri featured them on his show, Diners, Drive-Ins and Dives (watch here), is that they deliver! I can see a tradition of ordering Mexican food delivery and watching movies in our future!
Our yard received the recent months of rain with no maintenance which proved to be quite the site when we finally showed up to the house with the keys. Lucky for us, it cleaned up nicely and makes from some great before and after photos!
Josh put in all new blinds in the kitchen, dining room, living room, and all three bedrooms! We also bought a new fridge (well, two to be exact, but the first one was too big). The one we ended up with is just perfect, though! I highly recommend B & B Appliances for any appliance you might need. They sell appliances that are slightly dinged up, but still brand new and under factory warranty. We can't even find the supposed "dent" on ours and chances are, you can find one where the dent won't even show when it's installed! Both of the fridges we bought (ha!) were well under the suggested retail price and we have the same warranty! We are also the proud new owners if a California King bed!! Oh, how sweet it is to be out of a full size!! We got a killer deal from R & S Mattress. Apparently, Gary's "overstock" of California King beds got us a heckuva deal on a brand new, (it's illegal to sell used mattresses) bed! He even delivered it for $10! With both of these thrifty, big purchases, we saved almost $2,000!
In other exciting news, I was promoted yesterday to a Sales Manager position at FireSky! I have been with the company for almost five years and have worn many hats in the Catering, Front Desk and Sales Departments. As a part of the Kimpton "opening team" I have seen the hotel grow so much in the last five years and cannot wait to start in my new position. I am thrilled to grow with a company that I believe in so much. I will have the opportunity to train my replacement and make a clean break into my role. If you know anyone who would be interested in the position, please let me know!
Enjoy the photos of our new home!